There are several trails and paths that meander along the Coquitlam River, and the other day, while riding my bicycle on one of them, I came about 30-40 feet away from a big ol' brown bear. This is not the first time I have seen a bear on this path; the impact of coming this close is always a powerful one. Such a beautiful, majestic animal…with a very tangible presence.
On this particular sighting, the bear was peacefully chomping on the wild berry bushes that dot the pathway. He or she didn't give us humans standing in silence and awe, even a glance as it meandered across the path and into the woods on the other side – thank heavens! It seemed it was all about finding something tasty to eat while enjoying the mid-day heat on that July summer day.
The bear has stayed with me; the visual of it standing on all fours, eating the berries made me think of how I appreciate the bounty of summer. It's a wonderful time to enjoy the abundance of fresh produce and fruits (I do choose though, to buy berries rather than pick them from the woods with the bears).
When I frequent our weekly Farmer's Market in Port Coquitlam, on the top of my grocery list are always greens – whether it be kale, spinach, beet greens, chard, arugula – I think you get the idea. And then there are the herbs – parsley, sage, rosemary and thyme… oops that sounds like a song doesn't it? One not mentioned in that song is basil. Not wanting to sound prejudiced or anything, but it has to be my favorite of all. Perhaps this is because of my love for Italy and the fact that I associate its cuisine which with this herb.
As a result, basil is a go-to in my kitchen and during the summer when it is so readily available, I like to stockpile it.
I love making and freezing pesto so that come those winter months of hibernation (similar to the bear's life) I am able to enjoy summer again! It's also one of the best ways to store basil since as a fresh herb it can only be kept for a short period of time in the refrigerator (washed and in a container or plastic bag). You might try drying it, but to me the flavor of dried basil is a weak competitor against fresh or frozen.
I was interested enough in this green (and sometimes purple) beauty to put together my own "Dummies 101 on Basil." According to research, the name 'basil' dates back – hmm – a long ways, to the Hellenistic Greek period (around 300 BC) and the word is associated with "king". In fact, the Italians cannot lay claim to the discovery of this plant, even though they have a region called "Basilicata" in southern Italy. The Greeks inhabited this region in the late 8th century and it could have been because of them! Some suggest that the origins lie in Asia and India and certainly all of the Southeastern Asian cultures use Thai and holy basil in many of their dishes. Today, there are in fact over 160 different types of basil grown and used by many different cultures around the world.
There are many rituals and beliefs associated with basil from around the world, indicating again its ancestry and diversity. For example, African legend suggests that the plant protected against scorpions; in India, it is said that to place basil in the mouth of the dead would assist them in their journey to God. In Persia and Malaysia, it is apparently planted in cemeteries, on graves; Egyptian women toss the flowers on the resting-places of their loved ones. Haitian merchants often sprinkle their place of business with a mixture of basil soaked in water. The fragrance of this is said to chase away bad luck and attract customers. One consistent comment made is that basil is described as the "king" of the herbs.
Aside from loving the taste of basil in numerous dishes that I cook, its 'royal' stature can be upheld by all the health benefits it boasts.
For example, did you know that there are flavonoids in basil that protect against radiation and free radicals that can destroy cell structures and chromosomes? By sprinkling fresh basil in a salad for instance, the herb inhibits the growth of food-borne disease bacteria, like listeria, staphylococcus and E.coli.
This leafy green herb contains an essential oil, eugenol, which has the ability to block inflammatory enzymes (better known as cyclooxygenase or (COX). In simple English, this is the same process that happens as a result of taking anti-inflammatory drugs such as aspirin and ibuprofen. According to Nicholas Perricone, M.D., basil has anti-aging powers and may even help alleviate symptoms of inflammatory health problems such as rheumatoid arthritis, diabetes or inflammatory bowel conditions.
Because of its high content of beta-carotene, basil may protect the lining of blood vessels from free-radical damage and helps prevent them from oxidizing cholesterol in the blood, thus inhibiting the development of atherosclerosis and reducing the risk of heart attacks and strokes.
It is also a good source of vitamin B6 which keeps levels of homocysteine from rising and damaging blood vessel walls, again preventing cardiovascular disease. By including basil in your diet, you will be also getting magnesium, an important mineral, needed in over 300 biochemical reactions in the body. There are 56 conditions identified that can result from low magnesium levels: acid reflux, Alzheimer's disease, brain dysfunction, kidney stones, irregular heart rhythms or spasms – to name a few.
So I hope I've made my point! There are many benefits to including this wonderful herb in your diet – whether it be sprinkling it fresh in a green salad, adding it to a salad dressing, tossing it into your favorite pasta sauce, stew, fish, egg, or bean dish or as I suggested, making your own homemade pesto. There are probably at least 101 ways to use basil! If you make your pesto (and yes, I'm going to give you a recipe), you can either keep it in a jar in your refrigerator for up to 2 or 3 weeks or you can freeze it for a cold wintery day.
---
So, without further ado, here's a simple and easy recipe for pesto, adapted from
Grains of Wisdom, The Callanish Cookbook
written by a dear friend of mine, Kathleen Fell.
Basil Pesto:
3 cups of packed fresh basil leaves, washed and removed from the stem
2 large cloves of garlic, chopped
½ cup of roasted pine nuts, sunflower seeds, walnuts, almonds or a combination
¾ cup fresh parmesan, grated
¼ cup of freshly squeezed lemon juice
½ cup or more of extra virgin cold-pressed olive oil
Sea Salt to taste
I throw the first four ingredients (dry stuff) into my food processor and chop it for a few seconds until everything is reduced. Next I drizzle the lemon juice and olive oil in so it turns into a lovely, green smooth paste. You may want a bit more olive oil – it just depends on how thick you want it to be.
Personally, I must admit I don't measure mine much because I just know how I want it to look!
By the way, did I mention that in Italy, basil is a token of love? And isn't that what this is all about – love for food and a passion for a happy, balanced body!
Ciao for now!
---
Kathleen Holzermayr is a Registered Holistic Nutritionist (RHN) and a member in good standing with CAHN-Pro (the Canadian Association of Holistic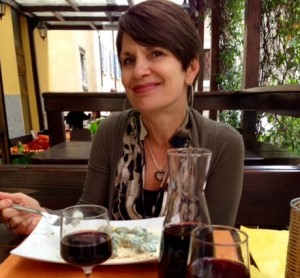 Nutrition Professionals); she also has a Certificate in Community Counselling Skills from the Vancouver Community College. She is dedicated to helping individuals find their inspiration in food through an empathic and mindful approach. Having spent nearly 30 years fascinated with food – cooking, preparing, eating and studying it, she has a depth of passion and knowledge to share. She also believes in the power of humor when viewing a world bogged down by foods deemed healthy and unhealthy!
Whether you are suffering from chronic pain, digestive issues, depression, weight gain, hormonal changes or boredom with food – Kathleen will work with you to identify those foods and habits that are creating a state of dis-ease. Using a specific assessment tool, designed to translate the body's wisdom of symptoms and signals, she will identify areas of balance and imbalance in your physical body. Kathleen will guide you back to the magic and deliciousness of healthy food choices – one loving spoonful at a time – bringing the sparkle back into your life. Kathleen Holzermayr lives in Port Coquitlam and is the owner of Holzono Nutrition.