Nutritionist Approved* Consultation 
(includes follow-up)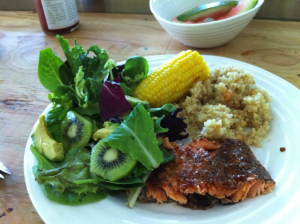 Our resident Holistic Nutritionist conducts a One-on-One personalized consultation session to help you understand your health better. She explains thoughtfully and simply where imbalances may be present.
The goal of the Nutritionist Approved* plan is to achieve a balance between the body and mind. The consultations includes a comprehensive plan that's placed over two in-depth sessions gathering information about you and your present health concerns, goals, and medical history. In this sessions, the Nutritionist customizes a plan to help work towards your goals. She begins by addressing the following in holistic nutritional advice:
Optimizing Digestive Health (digestive hygiene, bloating, gas, liver, bowel issues)
Mineral Deficiencies
Balancing hormones (PMS, thyroid, adrenal)
Skin Health, etc
This Consultation includes:
3 day Sample Meal Plan
Comprised of EASY nutrient-dense recipes and meals, requiring minimal cooking skills with minimal ingredients. Also included is a guide to help transition into eating healthier meals.
Lifestyle Assessment
Further understand your internal and external environment (toxin exposure, emotional and stress management, and a body activity assessment- BMI, composition, exercises, stretches, etc.)
Accompanied with various recommendations to help bring your body into optimal balance.
Includes integration and implementation of the Nutritionist Approved* Wellness Plan
Providing accountability and further guidance to help you achieve your goals.
As we dive in and work with you to change habits and transition into a healthy eating plan and lifestyle, the follow up visits include Nutritional and Lifestyle recommendations to address:
Cleansing and Detoxifying (liver, intestinal, skin, and lungs)
Relationship with Food
Anxiety and Stress
Hormonal Imbalances (i.e. estrogen dominance, thyroid disorders)
Adrenal Fatigue
Skin Complications (i.e. acne and eczema)
Blood Sugar Imbalances and Sugar Cravings
Digestive Conditions (i.e. liver overload, IBS, candida)
Emotional Eating
Healthy Weight Loss (becomes the result of a healthy balanced lifestyle)
Follow ups consultations also address:
Preparing and cooking healthy food
Travelling healthily
Maintaining health while juggling school or work
Creating good habits for the whole family
HOW DOES IT WORK? 
Simple! Click below for a Free 15min Consultation and we will send you the booking information.  Once you are in, you book the services you would like to participate in and fill out the Intake Form. Once submitted, we will contact you and schedule an initial consultation and get you started on your new health journey!
Free Consultation
To find out if Nutritionist Approved consulting is right for you, we invite you to request a FREE 15 minute consultation by Phone or Skype, to answer questions and/or see how a Holistic Nutritionist can help you achieve your best self.
FREE 15 Minute Consultation
In return, you will receive:
Education on the needs of your body
Integration help to implement the plan into your lifestyle
Support to help you stay on track and embrace the changes
Guidance to help overcome challenges
Accountability, where your success is my success
Discover what good nutrition means for you
Build a positive relationship with your body
Learn how to use food as medicine
Find out how to reach and maintain your ideal weight
Develop the mind-body connection
Rely on me for support on your journey towards good health